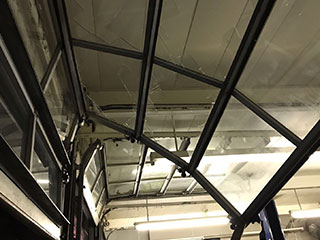 Let Us Give You A Hand
You have a busy schedule to take care of, the last thing you want is to waste precious time on garage door repairs. We understand! However, you may wind up spending even more time and money in the long run by ignoring issues like your door having a hard time opening and closing. Using your door while it's malfunctioning spreads the damage further, and can lead to it breaking down completely. Instead, just let us assist you! We'll come out on time and get to work right away to fix the problem so you can get on with your day in no time.
Get That Panel Looking Like New
Accidents happen, and whether it was from a bump with the car, or some other incident, a dent or crack in your garage door's panel won't look pretty. Even aside from the aesthetics, however, it also lowers the integrity of your door overall and can lead to worse damage if it goes unrepaired. That's where we come in! Our technicians can repair the panel and get it looking like nothing ever happened. If the harm is extensive enough, we can instead replace it with the perfect size and color so nobody will be the wiser.
Torsion Or Extension Spring Replacement
Whichever type of spring you may have, we can help! Springs are vital for keeping your door able to move easily, but can get worn or rusted over time. Extension springs are even more vulnerable to breaking due to being stretched to their limit so frequently. We can get the spring replaced before you know it so your door will be working smoothly again. Rather than risk the dangers of DIY harming you or the door itself further, just allow us to do it for you! It'll be much faster and safer in the long run.
Don't Wait Any Longer
It's time to get your garage door back in shape today! Just call Garage Door Repair Matthews and let us get to work for you.
Some Expert Advice
My garage door won't open manually. How come?
Automatic garage doors are designed to resist manual opening efforts unless you activate the manual override. This will usually look like a cord with a little red knob on the end of it, hanging from the belt that connects your opener with your door. Pull the cord until the little lever it's attached to is pointed downward and locked in its new position. If the door still won't open after that, then it is likely jammed, and you should call for professional assistance. Remember, don't try doing this if the door is currently open, and be sure to consult your owner's manual before trying to pull the manual release cord/lever.
How much does a garage door weigh?
Garage door weight is a product of its size, materials, and degree of insulation. The lightest garage door would be a small, uninsulated, eight foot wide unit made of lightweight synthetic materials or aluminum. Such a door could weigh as little as a hundred or so pounds. The heaviest would be a double-lined steel or a hardwood sixteen footer, which can weigh upwards of five hundred pounds and require a high-powered opener to move.
Garage door roller popped out. What do I do?
As long as the roller is still attached to the door and unbroken, it may be possible to get it back into its track by manually lifting the door to its fully open position and sliding it in from the top. However, this is not a job that should be undertaken without experience, and definitely not by yourself! You will also need to fix the trouble spot on the track that caused the roller to come off in the first place.
My garage door won't open all the way. How come?
When a garage door doesn't open all the way but otherwise seems to be fine, the culprit is usually the opener. Specifically, the force and travel settings that most openers allow you to adjust. If the door is listing to one side, then you probably have a mechanical failure on your hand, such as a jammed track, broken spring, or a loose lift cable.
Couldn't find what you're looking for? We also offer:

Part Replacement & Repair

Track Alignment & Repair

New Opener Remote Controls

Extension Spring Adjustment