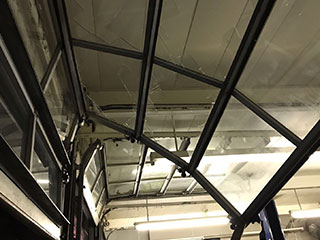 Let Us Give You A Hand
You have a busy schedule to take care of, the last thing you want is to waste precious time on garage door repairs. We understand! However, you may wind up spending even more time and money in the long run by ignoring issues like your door having a hard time opening and closing. Using your door while it's malfunctioning spreads the damage further, and can lead to it breaking down completely. Instead, just let us assist you! We'll come out on time and get to work right away to fix the problem so you can get on with your day in no time.
Get That Panel Looking Like New
Accidents happen, and whether it was from a bump with the car, or some other incident, a dent or crack in your garage door's panel won't look pretty. Even aside from the aesthetics, however, it also lowers the integrity of your door overall and can lead to worse damage if it goes unrepaired. That's where we come in! Our technicians can repair the panel and get it looking like nothing ever happened. If the harm is extensive enough, we can instead replace it with the perfect size and color so nobody will be the wiser.
Torsion Or Extension Spring Replacement
Whichever type of spring you may have, we can help! Springs are vital for keeping your door able to move easily, but can get worn or rusted over time. Extension springs are even more vulnerable to breaking due to being stretched to their limit so frequently. We can get the spring replaced before you know it so your door will be working smoothly again. Rather than risk the dangers of DIY harming you or the door itself further, just allow us to do it for you! It'll be much faster and safer in the long run.
Don't Wait Any Longer
It's time to get your garage door back in shape today! Just call Garage Door Repair Matthews and let us get to work for you.
Couldn't find what you're looking for? We also offer:

Part Replacement & Repair

Track Alignment & Repair

New Opener Remote Controls

Extension Spring Adjustment