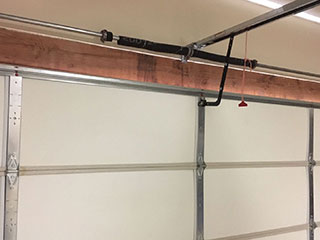 Why Are The Springs So Important?
Without the springs of your garage door, it won't be going anywhere! Garage doors are much heavier than they look, and the strength needed to lift them up comes from the springs. They create and store energy that's used to be able to pull your door up off the ground when you have places to be. If you notice your door struggling to open, and falling closed more than it lowers, the issue is likely with the springs. Attempting to DIY it is too dangerous, as the springs can snap and harm you. They also hold the weight of the door, and it might completely fall down and cause a bigger issue. That's why it's best to leave it to the experts!
What Kind Of Springs Are There?
There are two varieties of springs and the difference comes in how they generate the energy they need to lift the door. Extension springs are pulled apart and the tension from this creates the energy, while torsion springs twist up tightly. Extension springs wear out and break faster due to strain, and can cause damage when they snap and ricochet, so knowing which kind you have them is for the best!
Quick And Reliable Spring Services
Whichever type of spring and whatever it may need, you can count on us to get it taken care of in a snap. Our team can adjust springs that may have shifted out of place over time, or replace any springs that have worn out or even broken entirely. We'll do so carefully, but swiftly, so your door will be working again in no time.
Why Wait Any Longer?
Our professionals can come out and get to work right away at a time that works best for your busy schedule! Just call Garage Door Repair Matthews today.
Want more? Let us take care of:

Garage Door Remote Clickers

Oil Tempered Torsion Springs

Part Replacement & Lubrication

Emergency Garage Door Repairs